---





...WHERE EVERYTHING IS ONLY $10 OR LESS!!!
f
updated 10/02/16
**

RIDICULOUS SALE!

**
TAKE

*EVERY* ITEM ON THIS ENTIRE PAGE

FOR JUST $160

TOTAL! (that's a savings of over $200!!)


Be the one lucky fan to take advantage of it, NOW:




click directly to these BARGAIN BIN items:
vintage 70s stuff | 80s & 90s magazines | trading cards | posters | 8-tracks |
ticket stubs & passes
stickers & postcards | newspapers |
fanzines & comics | calendars | vinyl & inserts

**We now accept CREDIT CARDS through PayPal.com**
PLEASE USE THE SHOPPING KART SYSTEM FOR YOUR CONVENIENCE - PRICES DO NOT INCLUDE SHIPPING
We will write you back ASAP to confirm your order and request shipping fees

KISS MEETS THE PHANTOM OF THE PARK

OFFICIAL VHS
(From Good Times in 1988, the full classic TV movie on VHS. Tape looks to be a copy of the original [xeroxed sticker], but cover is definitely original, NM-) - $10


1977 KISS "

LIVE II

" STICKER
(Official 8x10 sticker/poster-put-on, never used! NM) - $10


9/78

ROCKET

MAGAZINE
(Great

Peter

cover of this less-common '70s music magazine. Missing Peter/

KISS

article but the cover alone is still worth it! B/w pix & text inside, EX-) - $8

MINT/NEAR MINT SINGLE CARDS NOW AVAILABLE FROM EACH SET OF DONRUSS '70s

KISS CARDS!






E-MAIL ME WITH THE CARD #'s YOU NEED!
SERIES 1 & 2 1978 SINGLE CARDS - SERIES 1 @ $1/card; SERIES 2 @ $2-3/card (NM/M)
SERIES 3 1980 AUSTRALIA [Revised Series 1] - $3-5 depending on card. (*all are MINT and have the 1980 Eric/group shot as back puzzle -- sorry no ERIC cards!)


SUPERSTARS 1980s KISS TRADING CARD
(Pro-Set's "Superstars MusiCards" 2-sided card [#197] featuring the
Animalize
-era band w/Bruce, from a 1991 set of 200 other rock stars/bands of the day. MINT) - $2


1996-97 CORNERSTONE PROMO TRADING CARDS
(Rare #P1, P2 & P5 promo Cards only available when purchased by the box or given out at trade events to promote the series. MINT) - $3/each

SET OF 2 ACE FREHLEY SOLO CARDS FROM LATE 80s
(2 great trading cards of Ace from the Frehley's Comet 1987-88-era, taken from a set of 90 with other rock stars of the day. MINT) - $2
*for both, sold only together


KISS

TEMPORARY TATTOOS
(Very cool set of 5 3" temporary tattoos - 1 of each member *PLUS* pick any bonus 5th one from the 2nd photo below, MINT) - $5/set


BUY THE SET OF 4 TATTOOS: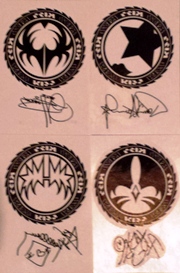 THEN PICK ANY ONE BELOW AS A BONUS 5th TATTOO:


LICK IT UP

1983-84 TOUR PATCH
(Very cool 4" x 6" used patch from LIU tour - still displayable, VG) - $5



1986 OFFICIAL

WHITE TIGER

STICKER
(Unused 5"x 5" logo sticker from

Mark St. John

's post-KISS group. Received directly from their fan club. MINT) - $4



ANIMALIZE: LIVE UNCENSORED

OFFICIAL 1985 VHS
(Full 90-min concert from 12/8/84 Cobo Hall show [Bruce's 1st as an official member]. 1st edition with cardboard case, tape has original sticker/label, and cover has wear but is still intact, VG+) - $10


KISS EXPOSED

OFFICIAL 1987 VHS
(Awesome collection of videos & skits, classic '80s

KISS

! 1st edition w/cardboard case, tape has original sticker/label and cover has a little wear but still nice, EX) - $8


OFFICIAL

KISS

VIDEO RELEASES - $5/each
(1992 interviews & videos from all years, EX-)




(1994 making of the LP of the same name, NM)




(1986 movie featuring

GENE

, VG+)



***SPECIAL - TAKE ALL OF THE ABOVE 5 OFFICIAL VHS TAPES
[including PHANTOM OF THE PARK + EXPOSED] FOR JUST $29***


PSYCHO CIRCUS

OFFICIAL 3-D VIDEO
(3-D music VHS video for "Psycho Circus", which comes w/

official [unused]

KISS 3-D Glasses AND a CD featuring unreleased Ace track "In Your Face." [this has Peter's image on it - you can collect all 4! Mostly still sealed, NM) - $10



KISS: THE SECOND COMING OFFICIAL 1998 VHS
(Amazing 3 1/2-hr documentary about the making of the record-breaking Reunion tour. 2-VHS package, including mint color booklet!) - $10


SET OF 3

KISS EXPO/CONVENTION PROGRAMS




(Official programs from a variety of

KISS EXPOS

, dating back to 1997 through 2012. Will be a random 3 from the photo below -- all MINT) - $10/any 3 programs


1988

VINNIE VINCENT INVASION

OFFICIAL PRESS KIT BIO
(8"x11" b/w 2-pg bio for "All Systems Go", on Chrysalis Records stationary, NM

) - $4


'RUNAWAY' MOVIE 2-SIDED PROMO FLAT
(8" x 11" cardstock flier from the official NY premiere of

Gene

's 1984 feature film debut [Tri-Star Motion Pictures]. Flipside is a credit list, w/

Gene

3rd from the top. Where else have you seen

this

?? MINT) - $2




1994 KISS THIS!

FANZINE


(8"x11" color & b/w Australian fanzine, featuring 30+ pages w/some cool

Revenge

/

Alive III

-era stuff. NM) - $7

top of page

AUTHENTIC KISS TICKET STUB FROM ASYLUM 1985-86 TOUR
(KISS' homecoming gig 12/16/85 at Madison Square Garden, w/opening band Black 'n' Blue [featuring Tommy Thayer], EX+) - $5
*despite the "Kiss" stub side missing, notice the date for authenticity


AUTHENTIC KISS TICKET STUB FROM REUNION/ALIVE WORLDWIDE 1996-97 TOUR
(From KISS' Long Island homecoming on 12/29/96 just before New Year's Eve, near the beginning of the record-breaking Reunion tour featuring

Ace

&

Peter

. NM-) - $5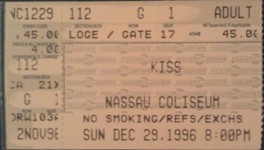 2002

KISS STRIKE:

HOT SHOTS!

9x11 PHOTO CALENDAR **FROM ITALY**
(2002 12-month calendar featuring unique interim 2001-02 line-up with

Ace

and Eric Singer; featuring some amazing 8x10 color concert photos!
Long out-of-print & Mint) - $7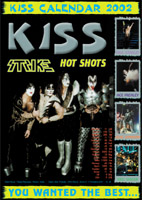 2000 OFFICIAL KISS CALENDAR (SEALED/MINT, 12"x12", Full color, tons of great Psycho Circus-era live and posed photos) - $8


2001

OFFICIAL KISS CALENDAR (12" x 12" w/one awesome color photo per month, last year of KISS Reunion-era, opens up to twice the size!
Some edgewear, but no writing anywhere, EX) - $6



2007

OFFICIAL

KISS

CALENDAR

(SEALED/MINT, 12" x 12", tons of great live shots from 2004 tour, featuring Eric Singer & Tommy Thayer) - $8
| | |
| --- | --- |
| FRONT | BACK |

**SPECIAL - Take all 3 authentic KISS Calendars for just $20!**


1971 MCA SOUND CONSPIRACY

COMPILATION LP


(Featuring 1 song from PETER CRISS' pre-KISS band Chelsea - Vinyl EX+/Cover VG+,
*person's last name in black marker written at top of back cover, still very rare & worth a spin!) - $10

45" SINGLES
*all singles come with original sleeve **unless otherwise noted

7" 1980s "Beth" / "Hard Luck Woman"
(Mercury 814 303-7, white sleeve, EX+) - $4

7" 1980s "I Was Made..." / "Rock and Roll All Nite (Live)"
(814 304-7, white sleeve, EX+) - $4

***SPECIAL - TAKE BOTH OF THESE 45s FOR JUST $6***

2000 24" x 36" KISS THE AUCTION PROMO POSTER
(Official item from 6/24-25/00 Auction event, 2-sided with minimal text on the back, Long Out-of-Print. EX+, slight fraying on bottom but unnoticeable once framed) - $10


1998 24" x 24"

PSYCHO CIRCUS

2-SIDED ALBUM PROMO

POSTER
(Album cover on both sides, pretty cool looking, NM-, Rolled/never put up) - $10


24"x 36" P.O.V. PROMO POSTER FROM 8/97 P.O.V. MAGAZINE COVER (RARE, 24"x 36", M) - $7 *special price*

***SPECIAL! Buy 2 of these P.O.V. posters for just $10!***

***SPECIAL - TAKE ALL 3 BARGAIN BIN POSTERS ABOVE FOR JUST $22***

What a deal!!!



MAGAZINES (KISS covers, '80s-2000s)

3/85 HIT PARADER

(

Gene/

Paul Animalize-era cover. Complete, NM

) - $10

1987 ANABAS

ALL-KISS SPECIAL

**FROM ENGLAND**

(RARE glossy mag complete w/rare & unique color make-up & non-make-up posed & concert shots, 35 pages. Some great

ERIC CARR

-era make-up shots. MINT

) - $10

7/92

CIRCUS

(

Gene/

Paul

Revenge-era cover & cover story/interview w/great color pix inside. Complete, NM

) - $10

4/89

SONG HITS

(Featuring lyrics to "Rock and Roll All Nite" and nice 3-pg interview, plus tons of lyrics to other rock songs of the late '80s. NM

) - $10

1994 GUITAR WORLD

MAGAZINE




(

Ace

cover w/Dimebag Darrell from Pantera; cool fun article w/3-way interview with the Spaceman and a few of his disciples.

NM-) - $8

5/93 GUITAR FOR THE PRACTICING MUSICIAN

MAGAZINE

(

Gene

&

Paul

cover w/Scott & Danny from

Anthrax

; cool fun article w/4-way interview with our heroes and a few of their disciples.

NM-) - $7

METAL EDGE

ALL-KISS

SPECIALS

**back in stock!

(Awesome & monstrous

all-KISS

mags with tons of photos & interviews on the Hottest Band in the World! Pull-out posters and pin-ups galore! M)

- $8 each

8/96

HIT PARADER

(Great "

Return of KISS

" cover with pix from all eras! Cool

Paul Stanley

hologram on top left, M) - $6

8/16/96 ENTERTAINMENT WEEKLY

(Great cover w/"On the Road with KISS" article, M) - $5

2/02 SPIN

MAGAZINE

(50 Greatest Bands of All-Time article, featuring you-know-who. Nice pix and cool mag overall, NM) - $7




8/97 P.O.V. MAGAZINE

(Awesome KISS cover from this long-gone lifestyle magazine. 'The Vice Issue', featuring our favorite bad boys. MINT) - $5

1999 BASS FRONTIER

(Great

Psycho Circus

-era

Gene

cover, w/cool interview about his rig and unique basses and playing style. Still Sealed & Mint!) - $7

PSYCHO CIRCUS PREMIERE ISSUE #1 MAGAZINE (1st edition, MINT) - $10



2/00 INCITE
(Gene cover, PC Gaming mag w/ 12-page story on new KISS Game video, NM) - $3



12/97


GO FIGURE

(introducing

Art Asylum

's 2' singing dolls, M) - $4




10/97 WIZARD (w/awesome KISS supplement "Source book", M) - $2


10/98 TOY FARE

(introducing the new

Psycho Circus

action figures, M) - $3



***SPECIAL - TAKE ALL 4 OF THESE MAGS

FOR ONLY

$10***


2003 CLASSIC ROCK MAGAZINE
**FROM ENGLAND**
(
Gene
&
Steven Tyler
share this awesome cover to celebrate
KISS
' 'World Domination' tour featuring both legends, M-) - $8

**SPECIAL - Take all the above U.S. & foreign 80s-2000s magazines above for just $109!**
What a deal!!!




'EYE' 6/10/99 - Toronto's main entertainment newspaper weekly, featuring a good review of Paul Stanley in "The Phantom of the Opera" and a nice photo of Paul on page 3 (Great article with tons of KISS references!, M) - $3



9/96 THE UNIVERSITY REPORTER ('UR')
(Washington D.C. College monthly, nice color insert group cover & lengthy Gene Simmons interview on the eve of the Reunion tour *conducted by KISS ROCKS' own Jon Rubin, M) - $3


8/9/96 PROVIDENCE PHOENIX (Rhode Island Ent. guide, Gene b/w cover, M) - $3


6/99 REAL DETROIT (Color cover w/ 'Detroit Rock City' cast on cover & movie feature inside, cool KISS pictures too, NM) - $3


3/00 THE REP (Phoenix, Arizona Ent. guide, group Farewell cover, M) - $3


5/00 REAL DETROIT (Color KISS cover w/ 3-pg "Kiss Off" Farewell tour article, NM) - $3


***SPECIAL - TAKE THE ABOVE 6 NEWSPAPER-STYLE MAGAZINES FOR ONLY $15***




top of page