---



updated 2/25/19
click directly to:
70s misc | 70s mego dolls | 70s comics/mags
70s trading cards | concert t-shirts | autographed photos
guitar picks | the 80s! | reunion era & beyond
ticket stubs & passes

**We accept CREDIT CARDS through PayPal.com**
PRICES DO NOT INCLUDE SHIPPING
We will write you back

ASAP

to confirm your order and request shipping fees

1977 SET OF

KISS MEGO DOLLS!


(Official 12" Mego doll "muscle" set from 1977-78, complete and in amazing shape! All costumes are original, 100% complete and all joints work very nicely. Amazing display piece and one of the most vintage

KISS

items out there [no matter how many new dolls the band keeps churning out!]. See photos for exact details. No boxes, EX++) - $375

SOLD!







1978

DOUBLE PLATINUM

8-TRACKS
(Casablanca NBL87100 1st edition run of this classic double 8-track set on white shell, w/clean labels all around! EX+) - $12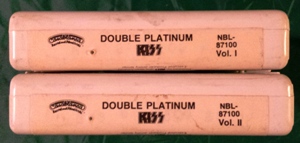 KISS MEETS THE PHANTOM OF THE PARK

OFFICIAL VHS

(From Good Times in 1988, the full classic TV movie on VHS. Super sharp original cover and clean tape [label looks cleanly reapplied].
*Comes with original local TV Guide cut-out from that week in 1978! EX++) - $15


1974 1st ALBUM

PROMO PHOTO
(Re-printed 8x10 b/w photo from 1st album press kit featuring that classic debut album artwork. Reprinted on high-quality photo paper, EX) - $6


1978
KISS
MARVEL COMIC #2
(1st pressing complete w/pull-out poster [not stapled in, w/some tape residue but only the back - no pinholes!]. Front and back cover are overall pretty clean and very displayable despite some averaage wear. EX-) - $40

- 1974
NEVER-BEFORE-SEEN
ORIGINAL 8x10 KISS PHOTOGRAPHS
-
Gorgeous images from
Central Park '74
were found in a vault after 39 years, and
KISS ROCKS
is selling them exclusively
HERE!
This Set of 4

never-before-seen photos

are printed from the original negative onto high-quality paper and are ready to be framed!
GET YOUR SET
NOW
AND GET A

*FREE BONUS 8x10*

FROM THE SAME DAY!
***$30
SET OF 5 8x10 IMAGES
***
**new low price


photos copyright 1974 Regina Kessler, on sale exclusively through this website. Note: these are

not

Waring Abbott photos from the same day


SERIES 1 1978 FULL SET TRADING CARDS
(#1-66, all with pretty sharp edges & corners, many cards fresh out of the box, NM-) - $40


SERIES 2 1978 FULL SET TRADING CARDS
(#67-132, all with pretty sharp edges & corners.

Very

hard to find as a set these days, let alone in such nice condition, NM-) - $79


SOLD!




MINT/NEAR MINT SINGLE CARDS NOW AVAILABLE FROM ALL OFFICIAL SERIES!

E-MAIL ME WITH THE CARD #'s YOU NEED!

SERIES 1 & 2 1978 SINGLE CARDS - SERIES 1 @ $1/card; SERIES 2 @ $2/card, ranges EX+ - MINT

SERIES 3 1980 AUSSIE CARDS - $5/each, ranges NM - MINT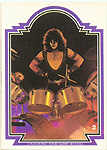 E-MAIL ME WITH THE CARD #'s YOU NEED!


ACE FREHLEY AUTOGRAPHED

8x10


(Signed on 10/27/15 by the Spaceman himself in rich, clean blue ink at the Chiller Theatre in NJ. Printed on heavy cardstock, ripe for framing. MINT) - $35



ERIC SINGER

AUTOGRAPHED

8x10


(Signed at the 2016 NY/NJ Expo by Eric in sharp, blue ink, on high-quality photo paper. MINT) - $35



TOMMY THAYER

AUTOGRAPHED

8x10


(Rockin' shot from the 'Monster' tour signed by

Tommy

at the 2013 NY/NJ KISS Expo, on glossy photo paper. MINT) - $30



1976

VINTAGE

CARNIVAL

DESTROYER

T-SHIRT
(Super-cool and rarely seen truly vintage 2-sided shirt from '76. Has been fairly worn with a few small rips and fraying - makes an awesome display piece but can also be worn if you want. Size: Men's Small, VG+) - $45
| | |
| --- | --- |
| FRONT | BACK |






GENE SIMMONS

AWW '96-97 TOUR GUITAR PICK
(Black on white from the now-legendary Reunion tour. M) - $10



PAUL STANLEY

WASHBURN 1999 GUITAR PICK
(Official sealed item with

Paul

double-sided black pick solo face & signature inside, MINT) - $5



ACE FREHLEY

2000 FAREWELL TOUR GUITAR PICK
(Official

Ace

'city' pick *STAGE-USED* from

6/27/00 E. Rutherford, NJ

[The Meadowlands] - Red front but this sort of odd 'misprint' [?] comes in a

BLUE

signature on the back! NM) - $15



ACE FREHLEY

2000 FAREWELL TOUR GUITAR PICK
(Official

Ace

'city' pick from

4/9/00 Ft. Myers, FL

, dark blue on transparent lighter blue, hard to read but still looks cool! NM) - $12



TOMMY THAYER

2012

'THE TOUR'

GUITAR PICK


(Official Tommy Thayer pick from the 2012 tour w/Motley Crue. M) - $12



BRUCE KULICK

REVENGE/ALIVE III

PICK
(Gold sig on gold logo from Revenge arena tour or any other '93 shows, w/cool extra gold "misprint" on signature side, bottom right. M) - $10



BRUCE KULICK

ESP

PROMO PICK
(Super cool Bruce ESP promo pick from late 90s, w/KISS logo, MINT!) - $10




ACE FREHLEY 2014

SPACE INVADER

PROMO PICK
(Official

Ace

promo pick from Space Invader CD -- given out at Ace-events and also available only in some limited edition versions of the CD, MINT!) - $10


**SPECIAL - Take all 8 official guitar picks for just $69!**







1984

ANIMALIZE

CARNIVAL MIRROR


(Rarely seen 12" x 12" mirror of the back shot of the LP, featuring

ERIC CARR

&

MARK ST. JOHN

. Gold trim frame, no scratches or cracks anywhere, NM) - $30



1984

ANIMALIZE

OFFICIAL KEYCHAIN


(Pretty rare official '84 item from the

Mark St. John

-era, never used and free of scratches or cracks. NM) - $10



ANIMALIZE: LIVE UNCENSORED

OFFICIAL 1985 VHS
(Full 90-min concert from 12/8/84 Cobo Hall show [Bruce's 1st as an official member]. 1st edition with cardboard case, tape has original sticker/label, and cover has wear but is still intact, VG+) - $10


KISS EXPOSED

OFFICIAL 1987 VHS
(Awesome collection of videos & skits, classic '80s KISS! 1st edition w/cardboard case, tape has original sticker/label and cover has a little wear but still nice, EX) - $8



SUPERSTARS 1980s KISS TRADING CARD
(Pro-Set's "Superstars MusiCards" 2-sided card [#197] featuring the

Animalize

-era band w/Bruce, taken from a 1991 set of 200 other rock stars/bands of the day. M) - $2



SET OF 2 ACE FREHLEY SOLO CARDS FROM LATE 80s
(2 great trading cards of Ace from the Frehley's Comet 1987-88-era, taken from a set of 90 with other rock stars of the day. MINT) - $2 *for both, sold only together



AUTHENTIC KISS

TICKET STUB COLLECTION

1985-2007
(Nice mix of 11 stubs from different tours over the last 3 decades; highlights include 12/16/85 Madison Square Garden

Asylum tour

;

7/4/88 Swanzey, NH Crazy Nights tour

;

9/15/90 San Diego Sports Arena HITS tour

;

Ace 10/31/07 Hard Rock Cafe NYC

*unused ticket*,

MSG 10/9/09 Sonic Boom

. All EX/EX+) - $30/all 11!





OFFICIAL 2006

TOOTH TUNES TOOTHBRUSH


(Neat item
from Tiger Electronics. Plays "Rock and Roll All Night" while you get those pearly whites clean! Still sealed & MINT) - $15


KISS: THE SECOND COMING

OFFICIAL 1998 VHS
(Amazing 3 1/2-hr documentary about the making of the record-breaking Reunion tour. 2-VHS package including mint color booklet!) - $10






LOVE GUN SEAT COVER


(Official 2012 item from Bell in association w/Live Nation. Would look awesome in YOUR car! Sealed/MINT) - $20



SET OF 4 1996 OFFICIAL

PHONE CARDS


(Official item, all 4 still on cardboard, 1 card for each member. Unused & MINT) - $20/set



2008 7-11

SONIC BOOM

PROMO CUPS
(Heavy-duty black plastic 'Super Big Gulp' 32 oz. cups. Super cool and getting rare!

Gene

&

Paul

only, EX+) - $10/each

| | | |
| --- | --- | --- |
| | | |
**SPECIAL - Take both KISS 7-11 Cups for just $17!**


LATE 90s LEATHER CD WALLET
(Unused leather CD case in cardboard packaging, very cool! NM) - $12






2001 ALIVE TRADING CARD SET


(Amazing set of 100 cards featuring all color images from '75

Alive!

-era) - $15


SOLD OUT




1996-97 CORNERSTONE

PROMO TRADING CARDS

(Rare #P2 & P5 promo Cards only available when purchased by the box or given out at trade events to promote the series. MINT) - $3/each

KISS SERIES 2 CORNERSTONE CARD

BOX/PACKS


(1997 semi-full box of 20 packs; packs carefully opened but loosely re-sealed, each pack complete with all 7 original cards. Cards MINT, Box EX+) - $25